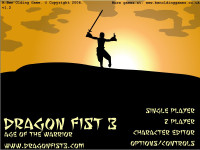 In this game, you will choose one of the 32 characters to participate in the fierce battle. Select your character and beat all other warrior to prove to be the best!
How to play
Player 1:
Use WASD to control.
Use T to punch.
Use Y to kick.
Player 2:
Use arrow keys to control.
Use 4 to punch.
Use 5 to kick.