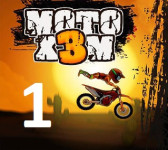 Moto X3M is a cool motocross stunt game with 22 challenging, yet addicting levels. Put on your helmets, reeve your motorcycle and take off to beat the time on all the amazing stages. Perform tricks, like flips, to decrease your time.
How to play
Use up arrow key to accelerate.
Use down arrow key to brake.
Use left arrow key to tilt left.
Use right arrow key to tilt right.
Tips and Tricks:
The screen will have a timer, pay attention to it and try to get all 3 stars in all stages.
You can pause/resume/restart or tuen the sounds on/off on the game' screen.