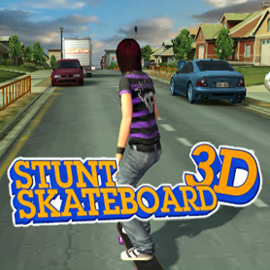 Skate your way from the streets to the beach and beyond in this amazing 3D game. Perform various tricks and avoid injuries in Stunt Skateboard 3D!
Choose your gender and explore the wonderful 3D world with your skateboard. Perform various tricks and stunts while avoiding injuries. Collect doughnut like icons to earn added points. Create combos of your tricks and perform dangerous stunts to earn even more points. Skate through streets, construction areas, parks, beaches, and other places in Stunt Skateboard 3D.
How to play
Use arrow keys to control.
X to jump.
X to flip.
Hold X to grab.
R to restart.
P to pause.
Tips and Tricks:
Use combo moves to get more points.
You can turn the sound on/off on the game screen.