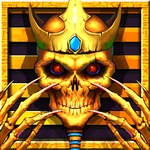 Run, Tomb Runner, run. This guy has discovered the ancient secret diamonds. But now he has to escape from this place. Run left, right and jump up and down to avoid getting killed. Good luck Tomb Runner.
How to play
Use up arrow key to jump.
Use down arrow key to slide.
Use left/right arrow key to change your direction.
Tips and Tricks
Try to survive and run as far as you can to get the highest score possible. Don't try to get the coins in areas that are too dangerous.