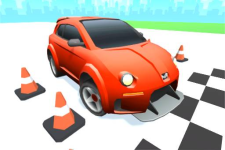 Are you willing to participate in an exclusive car driving simulation?
Start with your SUV and move on to unlock new vehicles as the game progresses.
Drive the car of your choosing and explore new, challenging places.
All car racing game enthusiasts are welcome to join us in this new driving experience.
Real Drive 3D is the most popular car simulation game of 2021 and will offer you an unforgettable arcade experience.
You can improve your parking skills and learn how to drive a classic car simulator.
Your extreme stunt sport skills will help you navigate through a multi-story virtual environment.
The best driving school experience is when you start with a 4x4, regardless of whether it's a Prado, or an SUV.
You'll learn how to park your vehicle using a manual transmission.
It is important to drive safely, especially when off-roading.
Avoiding accidents and burnouts when off-roading is crucial.
You will be driving extreme vehicles in this parking mania. Grab your seatbelt, and let your inner racer loose.
Take a look at the fun virtual environments and try your hand on the rooftops.
It's never been more fun to move from one level of the game to another.
The game features a large selection of cars.
This jam-packed lot includes many cars such as sedans, pickups, muscle cars and 4x4s. There are also supercars.
Modern and casual controls. One-finger operation for an exciting and memorable experience.
You can choose from truck, Jeep or SUV as well as off-road and hypercars. There is also an exclusive sports car.
How to play
How To Play Toon Drive 3D