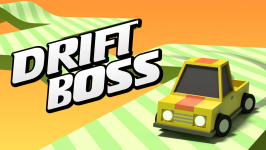 Drift Boss is a drift car game that can be played online. Drive your favourite carr down an unending road full of bends with exact timing in order to avoid falling into space and crashing into anything. How far are you willing to go? Continue to drift and gather money in order to unlock other vehicles such as trucks, taxis, police cars, ice cream trucks, and more. When you want to show off your driving talents or put your reflexes to the test, Drift Boss will certainly be a fantastic title that will have you glued to the screen for hours on end.
The gameplay in Drift Boss is straightforward. Simply pressing the right mouse button and releasing the button will move you in the right direction. It is, nevertheless, difficult to get a high score. The ability to anticipate and respond to changes in the direction of the road is essential for avoiding a crash or falling into space. It is necessary to use exact judgment while turning through the corners during turning.
How to play
Press the left mouse button or space bar to drift to the right, release the button to go left.