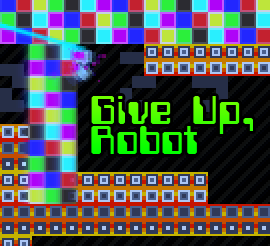 This wonderful game will be favored by everyone who loves complexity and is an easy way to solve them. You will need to walk through corridors in search of gold and exit. Play as a robot with a grappling hook and complete all 50 levels in this seizure-inducing platformer. Don't give up!
How to play
Use left and right arrow keys to move.
Use X or S or up arrow key to jump.
Use Z or A to grapple, then use up or down arrow key to adjust and left or right arrow key to swing.
Tips and Tricks:
You can play Give Up, Robot in full screen mode.
When jumping, you can hold it for maximum height.