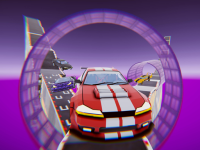 Elon Cars : Online Sky Stunt lets you take a ride into tomorrow! There are so many inventions in the future, so you need to keep up with the latest developments. You can now experience the speed and ease of electric cars in this fun game!
You'll be in the middle a race against time with this 3D game. To compete, you need to select a game room in which four cars will be challenged. The platform you will be driving from is high up in the air, and very dangerous. Apart from the fact that your opponents will be driving at high speeds and ready for you to hit them, you must also be aware of the ramps or obstacles you may encounter on the road. If you do fall off the platform accidentally, you can restart the game up to two times. Be sure to not fall off the platform. You can take advantage of the platform for as long and as you like within the time limitations. Use the money prices to personalize your vehicle and have fun!
This entertaining car game was a great success! You may also enjoy our other car games.
How to play
How To Play Elon Cars : Online Sky Stunt