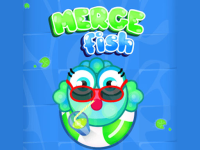 The sea is full of fish, but there are many more to be found in Merge Fish! Fat fish are staring into your eyes, and they are all quite adorable. They're in your pool, and they're eager to be caught and eaten. Don't be concerned, though. You don't want to consume them; instead, you want to use them in a game. Are you able to guess what the game is about?
There are 16 squares in this game for you to play with. You'll find four distinct colored fish on either side of this square pool's perimeter. Initially, three major fish of the colors pink, red, and yellow are seen swimming together. Here, your goal is to combine fish of the same hue in order to create a completely new species of fish. It is inevitable that a novel variety of fish would arise as a result of the repeated merging of the same-colored fish. If you play your cards right, you can see seven different varieties of fish at the end. Successfully merging fish is possible if you can group three of the same sort of fish. The most important thing to remember in this game is to avoid running out of room. If there isn't enough room left in the pool to accommodate more fish, your attempt will be unsuccessful. Then, on whichever side you'd want to join the pool from, simply click on the fish to start the game.
How to play
By tapping on the side fish they will enter the puzzle board and you can merge them and get score.