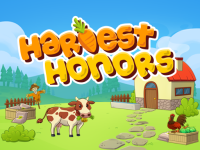 This farm is calling your name, and it's time to get down to business. Harvest Honors Classic challenges you to see how quickly you can match up all of the carrots. Throughout the game, you'll be up against players from all around the world as you attempt to demonstrate that you have a superior green thumb. In this adorable multiplayer game, can you gather more carrots than your opponents? Each round will be won by the person who is the first to reach 100 points.
How to play
USE THE MOUSE to look for items to match.

LEFT CLICK to put them into groups of three or more.