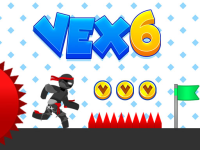 In Vex 6, the new edition of Vex game series, there will be 9 new things for our stickman to do. The players have to solve difficult levels with clever traps again. Take control of this brave stickman and show off his acrobatic skills while you earn different awards. To win this game, you have to get past dangerous spikes, saw blades, and a lot of other things. In this thrilling new game, if you've played the other games in the series, you'll know what to expect. The goal is to finish each level by getting to the end which has more dangerous obstacles for you to get through. Use the WASD keys to move around, run, jump, crouch, and climb walls. A platform could fall away from you. You might not think about your moves and hit a saw blade or jump into sharp spikes if you don't pay attention. Your character will die, and you will have to start over from the beginning. If you see flagpoles, keep an eye on them, too It's possible to respawn at the last checkpoint that you used. The best of luck!
How to play
On keyboard use the Arrow-keys or WASD-keys to move your character around.

On mobile use the left/right arrow buttons and Jump/Slide on the screen.